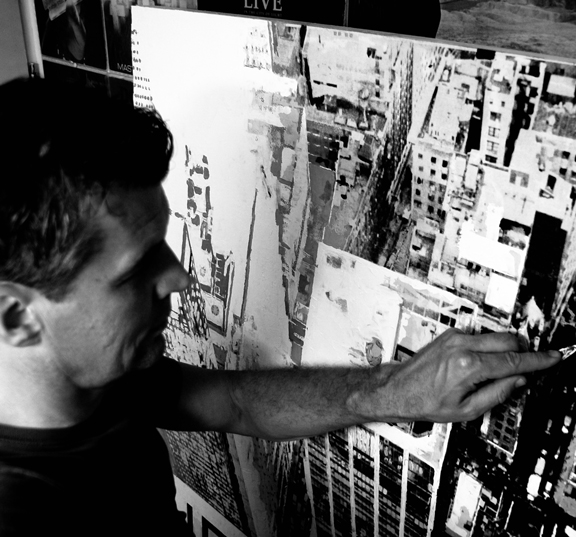 "Art is for everybody"
Keith Haring
Creatief ben ik altijd geweest, tekenen en schilderen was al in mijn jeugd belangrijk voor mij. Sinds die tijd is ook muziek, voornamelijk rock, de rode draad in mijn leven en dit is dan ook een grote inspiratiebron voor mijn creativiteit. De muren van mijn werkruimte hangen vol LP hoezen van rockbands uit de jaren '60, '70 en '80. Ik zal nooit schilderen zonder te luisteren naar muziek en combineer mijn passie voor schilderen met mijn liefde voor muziek. De emoties die songteksten losmaken verwerk ik in mijn schilderijen, waardoor ze diepgang krijgen en bij veel mensen herinneringen oproepen.
Ik raak ook geïnspireerd door grote steden of landen in het algemeen. Ik kan bijvoorbeeld genieten van mooie architectuur, graffiti of vervallen gebouwen. Net als bij muziek probeer ik de kenmerkende, unieke sfeer zoveel mogelijk probeer over te brengen.
Tijdens lessen die ik heb gevolgd op een grafische opleiding is de basis ontstaan voor het gebruik van typografie en (grafische) kunst. De laatste jaren houd ik me vooral bezig met mixed media. Het leuke hieraan is dat ik bestaande foto's en andere materialen kan combineren om zo een mooi en uniek beeld te creëren.
Ik heb ervaren dat creativiteit (in mijn geval schilderen) een bijdrage kan leveren aan de weg naar herstel van Posttraumatisch stress-syndroom (PTSS). Ik hoop dan ook dat ik mensen met mijn schilderijen kan inspireren om een negatieve gebeurtenis een positieve wending te geven.
Herinnering:
"Een herinnering is een ervaring uit het verleden die in het geheugen is opgeslagen, en die men zich voor de geest kan halen".
Herkenning:
"Herkenning is een fase in de waarneming, waarbij uit een ongeordende hoeveelheid signalen een object of verschijnsel als zodanig wordt geconstrueerd, dat dit overeenstemt met informatie in een geheugensysteem. Herkennen gaat vaak gepaard met een gevoel of beleving."
Vanuit deze 2 definities probeer ik altijd mijn schilderijen te maken. Ik wil met mijn werken bereiken dat mensen in gedachten weer terug gaan naar de tijd en sfeer van een bepaald liedje of in gedachten weer terug gaan naar die mooie stad.
Mijn schilderijen zijn te koop. Het is mogelijk om het schilderij zelf op te komen halen. Bij verzending worden verzendkosten berekend.
I've always been rather creative. Drawing and painting were already important to me in my years as a teenager. Music has always been a passion of mine too. The walls in my work place are covered with LP covers. I like to combine music with art: I'll never paint without music and I often use lyrics for my art. I usually listen to bands from the 60's, 70's and 80's. Their music inspires me.
Metropoles, and geography in general, are also a huge inspiration. I do enjoy stunning architecture. I find beauty in ancient historical buildings as well as in dilapidated buildings with broken windows and grafitti on the walls. Just like musicians do with their songs, I'm always trying to create a certain vibe that goes with my artwork.
When following the lessons of my graphic education I learned the basics of the use of typography and graphics, but for the last few years I've been focusing more on mixed media. The greatest thing about this form of art is that one can give existent pictures new life by combining them with different materials and refreshing colours.
From my experience, expressing my creativity has really helped me in the process to recover from PTSD. I'm hoping to inspire other people suffering from PTSD with my passion. I want to show that one can turn negativity into something that has a positive outcome. Bad experiences can lead to beautiful things when it comes to art.
Memory:
"A memory is an experience from the past, one can remember when it is captured by the mind."
Recognition:
"Recognition is a phase of the observation. Out of an unarranged amount of signals, an object gets such constructed that it corresponds with the information from the memory system. Recognising often goes with sentiment or experience."
I'm always painting with these two definitions in my head. The purpose of my art is to bring back memories and emotions.
The paintings are on sale. The prices are excl shipping costs.